Posted on
By Dan McGonigle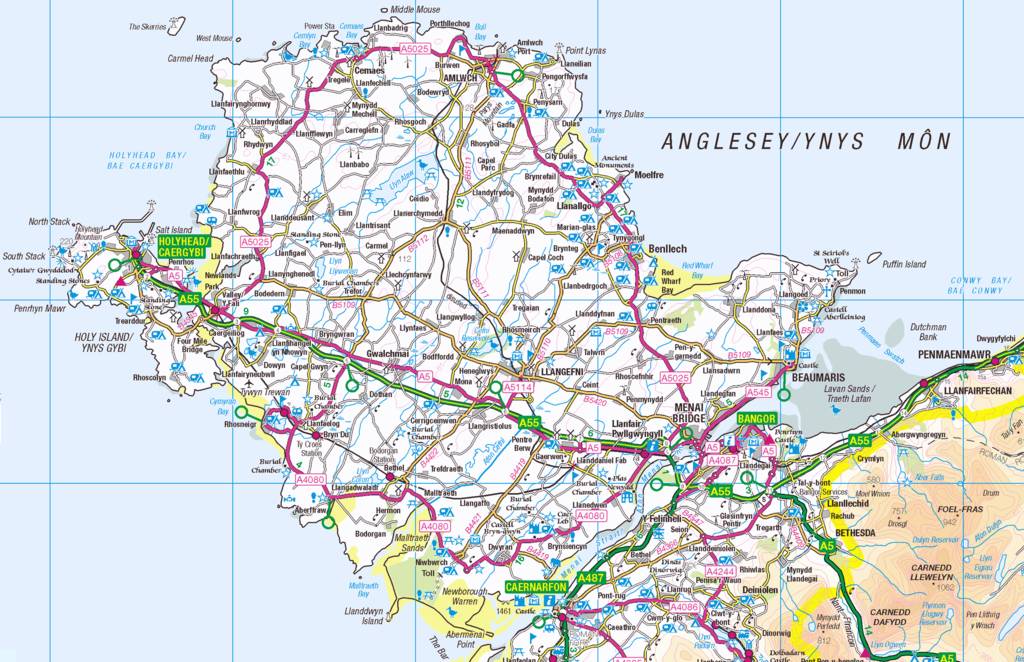 In 2016 Dan McGonigle (SWS Staff) and local outdoor educator Jonny Eldridge completed a Circumnavigation of the Isle of Anglesey together, in a respectable enough time of 14hrs 13mins. The weather windows lined up for another shot at the 125km loop, this time Dan was on his own. Have a read and see how he got on....
After completing a Circumnavigation of Anglesey in June with Jonny in 13hr 14mins, I had resigned myself to the fact that my paddling adventures may have been over for the summer.... Until, I saw a perfect window in the forecast... which lined up with my next day off. A thought that had been at the back of my mind came popping to the forefront.
Could I do it solo?
I had done it already…but could I do it without anyone else to confirm things with? Had I recovered?  I felt somewhat dubious of my ability to push through… not physically but mentally. Can I motivate myself when it's just me, alone and offshore? I know I can when I'm training but would that carry over to a longer challenge? Can I push on mentally… when my body doesn't want to go any further?
I had been watching the forecast like a hawk, hoping that the window promising light winds wouldn't close… The tide was going to be a big one…. If I missed this chance to push my limits, I would be kicking myself for the rest of the winter.
"That's it I'm going"

 
Mr Miles agreed to drop me off at Rhoscolyn on Tuesday 20thof September….It was early in the morning and as the forecast had said, there was barely any wind….flat as a pancake. This didn't help how I was feeling at that moment though….Tired, unfit and doubtful. How was this going to go?
Rhoscolyn earlier in the summer with Jonny
A nervous Dan left Rhoscolyn for the second time that summer, heading out again with the flood, well offshore, with my sights set on the horizon, occasionally glancing at my gps. Like on the Ireland trip I found my groove and got well and truly into my rhythm. Allowing my head to drift off and my body to maintain the pace I was trying to set. I kept catching myself grinning…pleased with the progress I was making and laughing in the face of the self-doubt that I was projecting.
One of the major cruxes on the other Anglesey trip was that shipping lane. This time I was alone…I checked every few minutes in both directions….scanning the horizon and Holyhead breakwater for a tell tail of an approaching Ferry. My HR spiked and my stomach dropped as I caught a fleeting glimpse of some smoke rising from behind the Breakwater, it got thicker and darker….something was waking up. The big passenger ferry that had been dormant now began to slowly creep its way forward. I picked up the pace, still watched the ferry's progress towards the mouth of the harbour…As it entered the shipping lane and swung around slowly onto it's intended course, I exited. I breathed a sigh of relief. My flow returned again shortly after, no time to relax. There was still a long way to go.
I carried on, passing the Skerries and Carmel head with ease. My course was well out from the North coast and the Mice…trying not to let the eddies trailing in their wake slow my progress. Point Lynas came quick and I soon found myself some way off shore and heading SE, on time to my tidal gate at puffin. A pod of Risso Dolphins joined me for a while, their long dorsal fins drawing my gaze, but there wasn't time to stop. The wind had slackened right off now…I was paddling on moving glass. Like with Johnny, this crossing felt long but I got through Puffin sound earlier than last time, meaning I still had some push from the dying flood. I was happy to see the boats of Beaumaris, signalling that I was entering the Menai straits and that I had firmly passed half way. It was at this point, coming up to that quaint little Anglesey tourist destination that I hit my first wall.
Hurting by Puffin Island (last time with Jonny)
I had been having small breaks every hour up to this point, to get food and fluids in…but I needed a longer rest here…1 sausage roll later and I was paddling again. My stomach muscles where really hurting now and I was struggling to stay sitting up. On the approach to Menai Bridge, my head was playing games….I was still struggling to keep good posture and was doubting myself again. I still had such a long way to go…this was a problem, something had to change
Pulling my towline tight around my waist I spun the bag around to the back, trying to make a taller back rest. Surprisingly it worked! The pressure on my stomach was alleviated (a bit)… my mind bounced back into motivated action. I just kept on paddling. The ebb was now well and truly in voice and was hurtling me down the straits, past the two bridges, Plas Newydd and Plas Menai. I kept getting second winds and dug deeper and deeper as I got to the southern entrance and Llanddwyn Island came into view. Knowing from last time that this section was going to be physically horrendous…I tried to mentally prepare…I was already tired and suffering. I wasn't fighting any real conditions….it was flat, but still the main battle was raging in my head.
Llanddwyn came and went, but slower this time compared to the rest of the milestones…the tide was slightly against me, but I had planned for that. What I hadn't planned for was the almighty wall that hit me minutes later. Stopping suddenly, I was sick over the side of the Taran 16…. This was grim….The pace was suffering now and everything was screaming for a rest. I was so close to the end… Rhoscolyn beacon was on the horizon. I was sick over the side again as I set off across Rhosneigr bay ….The little beach of Borthwen where I began, on the southern end of Holy Island was getting closer…I could make out the windows on the houses now…people on the shore…The closer I got, the more I pushed.
A ruined and salty Dan landed back in 11 hours 20minutes and 18 seconds. Almost two hours faster than last time.
The only photo I took of the day...at the end, looking back out of Rhoscolyn
HR Over the full duration
Rich came to pick me up…. He gave a chuckle when he saw the shape I was in. Crusted salt everywhere and a bloody line where my HR monitor had been, not to mention some terrible tan lines. I was pretty sure I gave that everything…
I'm really pleased with how this one went, my food and hydration systems worked a treat and I feel I read the water pretty well. Self-doubt is a funny thing…we set our own limits and given the chance our body and mind will smash them. I feel that if I was fitter and did a few things differently, I could have definitely gone a bit quicker…. That's what the winter is for.
A big thanks to Kevin, for letting me borrow the Taran 16, not to mention a massive thanks to Rich and Steve for getting me to Rhoscolyn and back. I couldn't even imagine doing these kind of things without the support of the guys. Looking forward to some cold, dark  Swellies paddling again this year...