So it turned out that the Great Slog of 2018 wasn't actually that bad. The traumas of Loch Laggan had been reduced to distant memories and laughable stories. My intention for the 2019 challenge was to sort out Loch Ness! From the 2018 challenge I felt it was the area where I messed up and I wanted the chance to put things right, (I took a bad line and lost lots of time and a probable podium place).
There was a smooth lead up to the 2019 challenge. I had arranged a nice cottage for accommodation, I had a good support team comprising of the wife and kids plus father in law. The forecast was for very light wind and no rain. I had adjusted a few things from the 2018 challenge including clothing and nutrition. There were a couple of names on the start line who hadn't been there in 2018 who, on paper, were set to be race winning contenders. I'd settled on the idea that I was primarily competing against myself, choosing a good line and making the right decisions were my main aims. Getting a high placed finishing position was going to be a bonus.
Race day minus 1
It was a beautiful sunny day with very little wind. I went for a short run along the tow path between Loch Laggan and Loch Oich to get the body moving again after spending the previous day stuck behind the steering wheel. I also sorted out my food and drink putting it in to separate bags so it would be easy to grab when the time came. I was in two minds which board to use, I had brought a Starboard Allstar designed for all sorts of conditions and a Starboard Sprint designed more for flat water. Based on Saturday's conditions and the forecast for Sunday I chose to use the Sprint. My decision was confirmed when I saw how flat Loch Ness was before the race briefing on Saturday evening. At race briefing I collected my bib and race number plus a GPS tracking device. The tracking devices were new this year and worked really well, for events like Great Glen they make a lot of sense.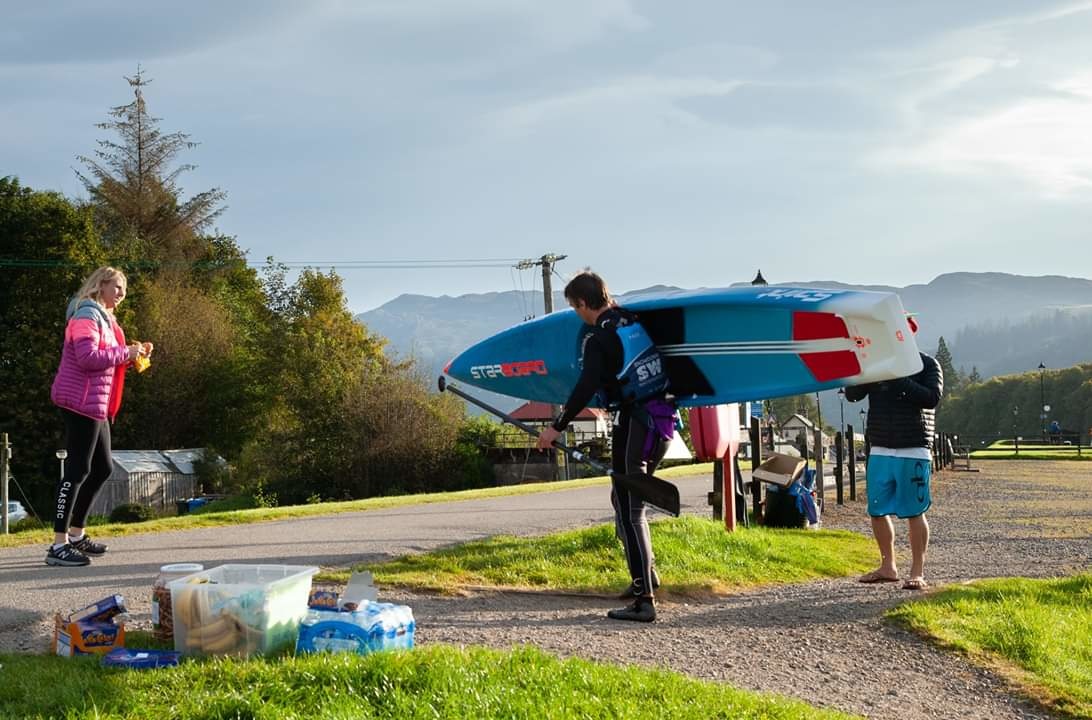 Race day
When the alarm went off at 0030 it was more of a reminder to get out of bed rather than to wake up. I forced down a bowl of porridge then headed down to the start at Neptunes Staircase near Fort William. There was plenty of time to make the final preparations and get on the water for the 0300 start. It was dry and dark with only the hint of an unhelpful breeze. When the starter set us off there was the usual burst of speed as people tried to find a space and set their pace. Within a few minutes it was easy to settle into a rhythm and focus on the section of water ahead of me.
To reach the first portage at Gairlochy took just over an hour, a bit slower than in 2018. The next section was the 17km stretch up Loch Laggan. As I left the canal at the entrance to the loch the tell tale sound of my board's nose hitting the water was an obvious sign that there was a head wind on the loch. Not a problem I thought, if I'm at the end of the loch where the waves are at their biggest then I can handle it. I made my way over to the eastern shore in the hope of finding a bit of shelter from the wind. Before long I was aiming for what I thought were lights on the bank, the shelter hadn't materialised and the waves weren't getting any smaller. Out of the gloom and not far away I saw what looked like the top of a weir. I initially had a moment of panic trying to work out what I was looking at hoping I wasn't about to be swept into some gnarly stopper. I turned on my head torch and realised I was looking at some kind of feed pipe for a fish farm. It seemed to be coming out of a central floating hub and running out to a pen. The floating pipe was one of about 10 which disappeared out in different directions creating long legs just below the surface. I needed to find away around these pipes to get back in to the open water. I quickly ruled out turning back and trying to find a way around, instead I choose to paddle as close as I could to the central hub where all the pipes came together then I was able to step off the board and onto the pipes while sliding the board across the obstruction. As I remounted the board and headed back into the gloom my focus was once again on the wind and waves. The head wind and waves continued without easing until I reached the narrow section close to Laggan Locks. My time was around 40 minutes slower than in 2018. No where near as windy as it had been in 2018 and without fearing for my life, Loch Laggan had proved itself to be another tedious experience. As I headed on to the next section of canal I was told that I was the fourth placed paddle board.
After Loch Laggan the course seems to ease with a short canal section then Loch Oich before another canal section and the halfway point at Fort Augustus. Daylight had arrived so I could now see what and who was around me. In terms of views there was plenty to look at including birds, mountains, colourful autumnal trees and open water. In terms of other people there was no one. At the top of Loch Oich I met Tara, my support team, who swapped over some food as I headed into the last canal section before Loch Ness. At the Kytra lock I met an elderly gentleman who I guess must have lived in one of the canal side cottages. As I portaged through he tried to spark up a conversation about the history of the lock. I felt a bit guilty for not engaging with him, I got the impression he was about to tell me how he had been part of a work team who had built the canal many years ago. I'm sure he would have had some great stories from the past and if the clock wasn't running I would have enjoyed listening to him.
As the canal gets closer to Fort Augustus you can sense a change in the surroundings. The sheltered tree lined banks fall back to fields with more houses starting to come into sight. At this point the headwind once again started to become more noticeable and my focus started to shift to Loch Ness. My plan, once on the loch, was to cross over to the eastern bank hoping to find some calmer water under the high tree lined hillsides. As I got off the water at Fort Augustus I met Tara who was there to help with food and kit. From the water at the top of the Fort Augustus lock you can't see Loch Ness, it's only once you leave the water and make your way onto the tow path that you get a view of the mighty Loch Ness. As I got of the water Tara was being really positive, saying the right things and being very helpful. Reality was about to slap me in the face. As I made my way along the towpath it soon became obvious that Loch Ness was full of breaking waves and strong headwinds. At the get in point I could see a few surf ski paddlers and another paddle boarder contemplating what lay ahead. I took some time to eat and drink as much as I could trying to ignore the conditions. As I made my way to the water I had a short chat to the ski paddlers who where in no rush to get going saying that they were going to hang back and see if things changed. In front of me a paddle boarder had launched and was making his way out into the white water. Trying to keep positive I stuck with my plan of aiming to get to the eastern bank to find some shelter. As I made my way across the loch I had to revert to paddling on my knees. At this point the racer who was ahead of me was heading back towards me, after a brief couple of words be both continued over to the eastern bank. Turning into the wind and the direction of the course meant we were finally able to stand up and get on with it. Things weren't good, the headwind was strong and the waves were at least knee high, which might not sound that big but when but every stroke involves paddling over a wave before submerging into the face of the next one, they were big enough. In these conditions making progress was extremely difficult and the the idea of racing was a bit pointless. To succeed would require 100% stubbornness. Before long myself and the other racer were chatting about the situation. We were paddling at less than 5kph with no sign of any respite or shelter, awkward exits and over 35km of loch ahead of us. At the pace we were moving we wouldn't make the cut off times and the further up the loch we got the tricker it would become to get off safely. The decision was made to cut our losses and head back to Fort Augustas. As I did my best to ride the waves back to the shelter of the canal I was feeling disappointed that my 2019 challenge was over. After a couple of dips I made it back into Fort Augustas and pulled out my phone to let Tara know that I was ready for a pick-up. She had been watching the tracker on her phone so the call came as no surprise to her. While I waited for the van to arrive I chatted to some of the other racers who had not launched on to Loch Ness. I heard that two paddle boarders had launched after me while the rest of the racers had been stopped from launching by the race organisers.
Once the van arrived I got changed into some dry clothes and loaded the board back into it's bag. After taking a couple of pictures we headed to the chip shop for some comfort food. I'm not usually a fan of fish and chips but for some reason these tasted like the best fish and chips I've ever had. I spent the rest of the day trying to reason with myself that the joint decision to turn around was the best decision and that I would have made the same decision had I been by myself. I also kept an eye on the tracking app on my phone to see how everyone else was getting on while wondering how the organisers would manage to get everyone back to safety. Fortunately everyone did make it to safety either by finding a way out half way along Loch Ness, by returning to Fort Augustus or even making it to the finish line. It seems as though the paddlers ahead of us managed to get in front of the worst of the conditions. The conditions we faced came as a surprise to everyone and a reminder that nothing is guaranteed.  
So there we have it, 2019 Great Glen. Congratulations to everyone who managed to get to Inverness. Big respect to all the one day paddlers who made it to the finish line and maximum respect to the two paddle boarders who set off after me on Loch Ness but decided to fight on and eventually finish. As I said at the beginning one of the main reasons for entering was to sort out Loch Ness! Ha ha, that definitely did not happen which means I'm now looking forward to 2020 and round 3. At the time of writing (Nov 2019) there are still places available in the 2020 challenge. If you fancy setting yourself a challenge you can find out more here. I read something recently from a para-olympian saying that you don't loose, you learn. For me, this definitely sounds like a fitting thought to end on.