Posted on
By Chris Thorne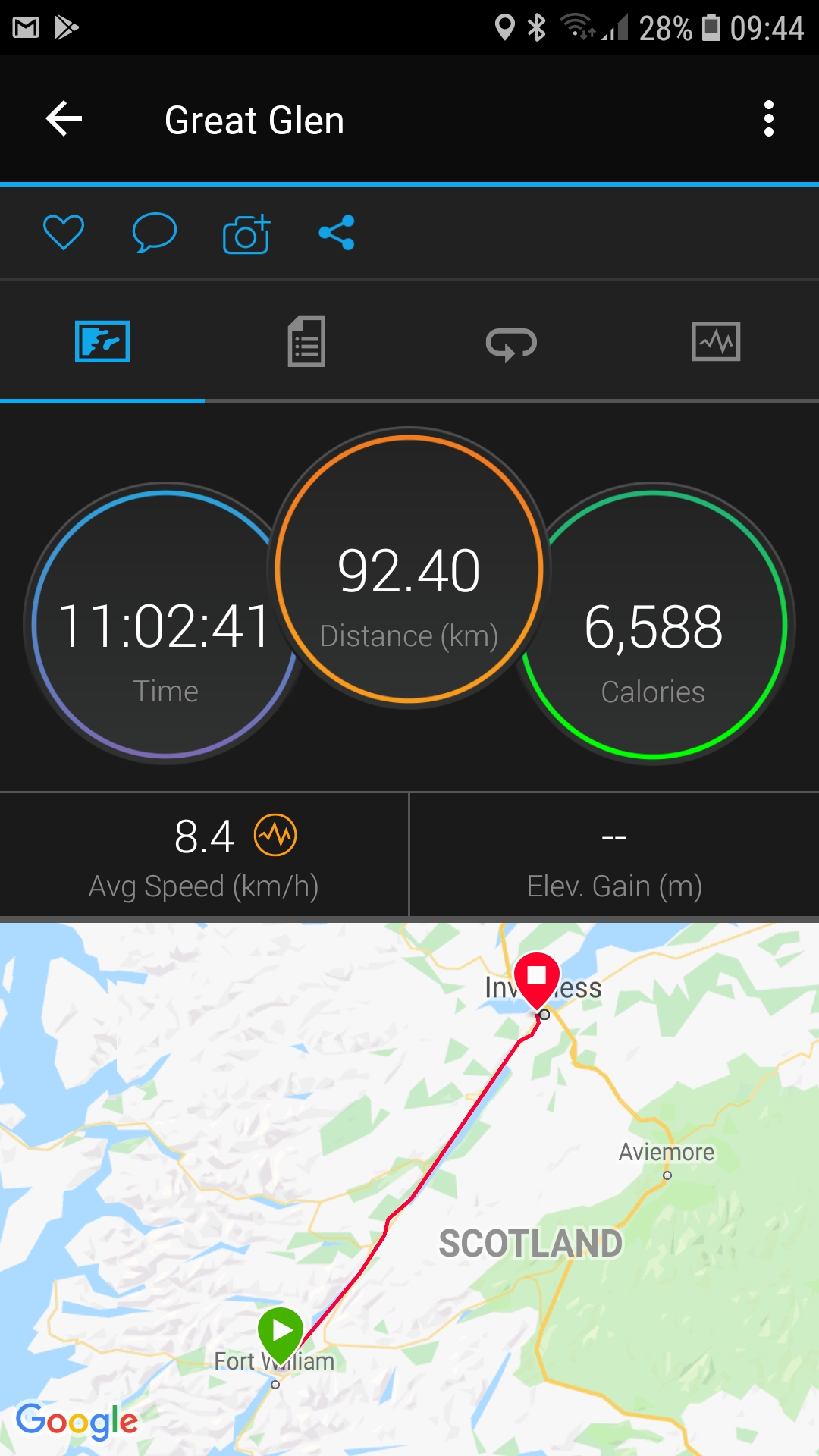 The natural fault line of the Great Glen runs diagonally between Fort William and Inverness in Scotland. Approximately 100km long it connects Loch Lochy, Loch Oich and Loch Ness with the famous Caledonian Canal. Originally the canal was built for industrial purposes and as safer route for ships traveling from the east coast to the west coast of Scotland, until its completion ships had to sail around the north and west coast of Scotland. Nowadays it is still used as a commercial route but the majority of traffic on the canal and lochs is a result of tourism. Either cycling, walking or paddling, the Great Glen is classed as classic journey through the impressive Scottish highlands and draws people from across the UK and further afield. The well established canoe trail is regularly completed over 3 to 5 days by individuals, families and groups.
The UK Paddle Endurance Series is an organisation that hosts a range of distance paddling challenges around the UK. At some events the distance is split over two days while others run the complete distance in one day. The Great Glen two day option involves paddling from Fort William to Fort Augustus on day one then from Fort Augustus to Inverness on day two. (If the wind is not from the south it is sometimes run the opposite way.) The non-stop option starts in Fort William and finishes in Inverness.
In 2018 the challenge was set for 15th and 16th September. Months of training and preparation had been completed in the run up to the event so when the time came to make the drive up to Fort William things felt good. We had been keeping a close eye on the forecast and had hoped for a nice steady south westerly wind with clear night skies. We arrived at out accommodation near Laggan late on Friday evening. With the van unloaded there was just enough time for some food before getting some sleep while trying not to overthink things to much.
The plan for Saturday was to recce the portages and sort out kit. It was a surprise to open the curtains on Saturday morning to see some swans and ducks sitting in front of our small balcony and only a stones throw beyond them was Loch Oich. We hadn't realised how close to the water we were the previous night as it was so dark. This made for a great breakfast view as we sat on the balcony drinking coffee waiting to see the first of the two day paddlers coming through. Seeing the leading boats and boards only added to our excitement and anticipation. After breakfast we got on with some admin jobs then headed out to check the portages between Fort William and Fort Augustus, we were especially keen to see Gairloch as we would be portaging here before daybreak. Saturday passed by pretty quickly and we were soon in Fort Augustus where we needed to make the race briefing. The briefing was a very relaxed affair, we met the other paddlers who had chosen the non-stop option and the race organisers. Our race numbers were issued along with some essential kit which we needed to carry during the challenge. Before long we were sent away to finalise kit preparations, eat, drink and sleep.
The alarm was set for 0030 but I might as well not have bothered as I spent the night lying in bed listening to the wind and rain in the trees outside our accommodation. Getting out of bed at 0030 was easy, eating a big bowl of porridge was a bit more difficult. Outside it was very dark and wet so clothing consisted of neoprene trousers and top with a light weight Paramo jacket to keep the worst of the rain out. We had packed up our kit the previous evening so when the time came to leave the accommodation it was a quick and simple process. From our accommodation we had a 30 minute drive along the side of Loch Lochy to get to the start line. With the rain bouncing off the van and the wipers on constant shift we pulled into one of the loch side lay-bys to get an idea of the wind outside. It was obvious there was some wind blowing in a favourable direction which gave us a sense of satisfaction. The start line was at the top of Neptunes Staircase in Banavie. When we got there we spotted a couple of headtorches moving around on the bank-side getting boats and boards into place. There wasn't much to sort out at this stage. The board was un-bagged and loaded with a small amount of kit while more and more head torches started appearing from various vehicles. There was a lot of cloud cover and it was raining constantly with a gentle, helpful breeze. After a quick good bye to Tara, my support team I set out for a warm up paddle before the starter called us up to the line. A few words were said by someone in the dark then we were off, 3am and 92 km of paddling to go.
The first hour was spent paddling along a gently wandering canal. Although it was dark things felt easy, we were generally all in a large group sharing each others light and chatting. Before long we reached the first portage at Gairloch, a relatively short and simple affair, I was 5 minutes ahead of my scheduled time and feeling good. The next leg was 15km along Loch Lochy. The enclosed nature of the canal soon disappeared and before long the field of other paddlers started to spread out. With very little ambient light and my choice to avoid using a head torch, visibility was limited. I could see lights of two other paddlers along way in front of me and these became my focus. It was still raining heavily and the wind had become more noticeable but at this point it was within my comfort level. I guess I was about half way along Loch Lochy when I first fell in, the wind had slowly built and I was caught off balance by a wave. Falling into Loch Lochy in the pitch black with no one around me at around 0430 in the morning was a bit of a wake up call, not that I needed one. I quickly jumped back on the board and carried on grateful that no one was around to see me biffing about. Psychologically I was feeling strong. I was looking after myself in the middle of a big loch in almost pitch black conditions at some stupid time of day. Mentally I'd been is similar situations before, the feeling of self reliance is something I enjoy.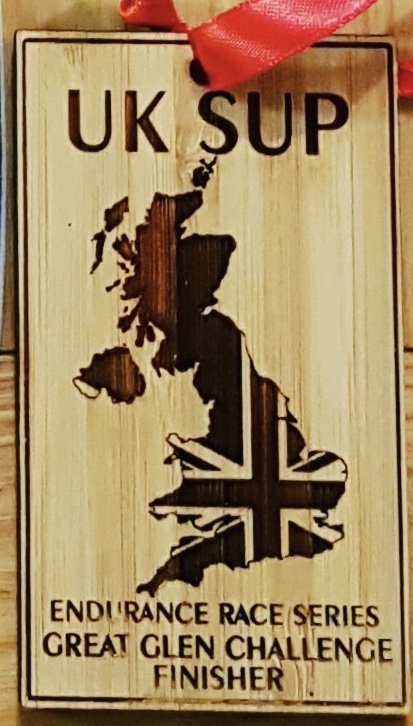 The lights I had been using to get my line were coming in and out of vision. I put this down to a combination of the conditions deteriorating and them pulling away in the distance. The wind was building and inevitably the waves were getting bigger. This coupled with the poor visibility and driving rain meant conditions were getting more challenging. It wasn't long before I was back in the water. Once again I quickly remounted and carried on the struggle. Conditions were building rapidly now. Paddling standing up was getting more difficult with more and more brace strokes needed. Before long I was in the water again and the realisation that things were starting to get spicy started to kick in. Fortunately the wind was blowing in the right general direction, all I needed to do was hold on. It was during another remounting exercise that disaster came very close, I'd managed to get back onto the board but before I could stand up my paddle was forced out of my hands. Fortunately I was just about able to make it out in the dark water down to my left hand side. I instinctively dived off the board to grab the paddle before it drifted to far away. The board ended up upside down, as I flipped the board over it was caught by another gust and bumped on to my head. Once I finally managed to regain the board I spent a few seconds trying to get a grip of the situation. My destiny was my own and everyone else was experiencing the same conditions. The idea that paddlers would be able help one another if some one was struggling was just that, a nice idea, in reality it was everyone for themselves. I couldn't see anyone and I doubt anyone could see me. The wind was to strong to be able to shout to anyone. Getting off the loch at the right place became my focus, time and technique didn't matter now. My technique for the next few minutes involved paddling until a wave picked me up then dropping to a squat position to try and lower my centre of gravity and stay on the board. This worked for a few waves but falling in became more and more frequent. I would estimate that the waves were about chest high when I was standing up. It was still pitch black with driving wind and rain. To try and compare it to a surfing situation, imagine trying to surf chest high waves in strong gale force onshore conditions in the dark. Waves would be breaking behind me with the spray being blown into the back of my head.
My technique had reverted to kneeling paddling now. I had been blown towards the western bank and the darkness had started to ease. It was now that I realised how close I was to being dumped shore break style into shallow water. What made things more sketchy were the fence posts and partially submerged dead trees which needed to be avoided, at least I could see the danger I was facing. Turning around a small headland to easing conditions and seeing the boats mored at Laggan was a welcomed site. The exit was not particularly obvious but our earlier recce was time well spent. I made my way to the narrow, muddy footpath and a small group of waiting supporters. As I jumped off the board and tried to carry it off the loch the wind nearly took it out of my hands. There was a building close by so I made my way across to shelter behind one of it's walls. For a moment or two I stood there trying to get my head around the situation. My legs felt like jelly, I was stretching my lower legs out using the wall as support. Mentally I had been pushed and it was now that it started to sink in, I was expecting someone to tell me that the event had been cancelled, maybe I was hoping someone would. Tara was talking to me telling me that there was a kayak and a surf ski in front of me. All I could say was something about "what's Loch Ness going to be like?"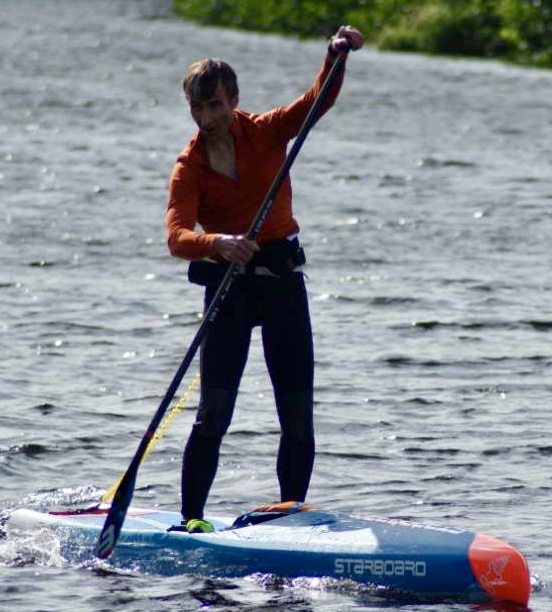 Shortly after another paddler came through, one of the Jersey boys. He ran passed me with his board under his arm. He didn't stop and hide behind the wall like me. Seeing him go passed seemed to kick me into shape. Things weren't that bad, I picked up my board and headed for the next section, some nice gentle canal action. With daylight, no waves to worry about and the renewed focus of a paddler to chase the canal felt like a world away from Loch Lochy. The next few kilometres was by contrast a piece of cake and before long I arrived in Loch Oich. At 6.5km long this is the smallest of the three lochs. I could see Jersey boy ahead of me and did what I could to keep up but the gap didn't seem to be getting any smaller. Loch Oich soon finished and I was left with another canal section and a couple of simple locks to negotiate before the next portage and the half way point. At Fort Augustus I was met by Tara and a group of race officials. As I made my way up the pontoon I passed the first paddle boarder who was sorting out kit and getting ready for the next leg. Our plan was to complete the long portage before stopping to refuel and prepare for Loch Ness. As I was sorting things out trying to keep faffing to a minimum Jersey boy went speeding passed which forced me to hurry myself along.
As the crow flies Loch Ness is over 35km long. The wind was at a manageable level and there was even patches of blue sky. The three things which seem to have stuck in my mind as I started out on Loch Ness were;
1. How heavy and uncomfortable my buoyancy aid felt with a full hydration bladder.
2. How far away the end of the loch looked, in fact the horizon consisted of only water and sky, no sign of any trees or land.
3. Jersey boy was still in sight but the gap looked bigger than it had before.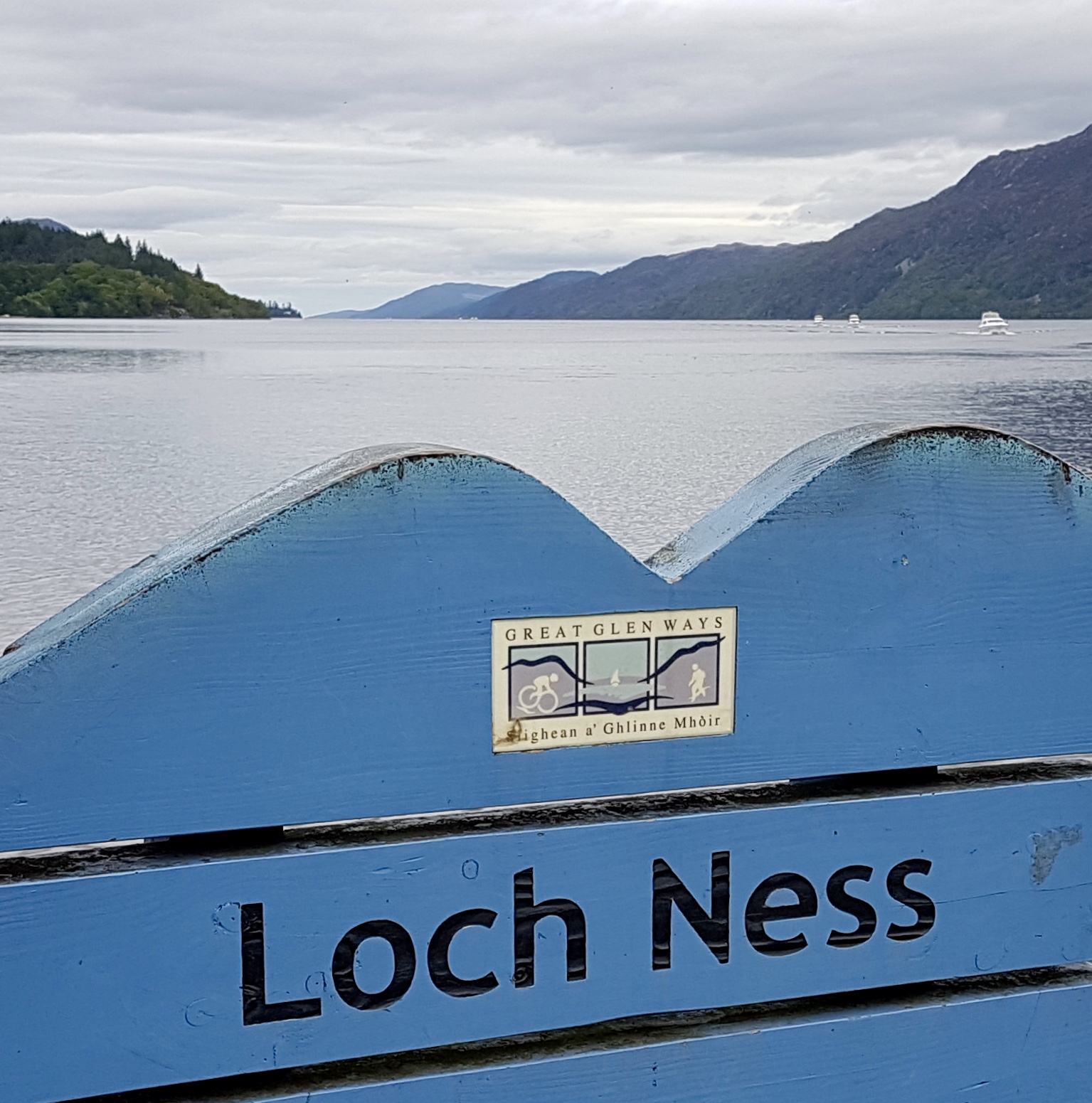 I kept telling myself that the view wasn't going to change for a long time and all I could do was paddle as efficiently as possible and try to forget about distance and time. The conditions on Loch Ness were ideal for down winding, knee high waves and a helpful wind. Catching waves and trying to remain upright made for a good way of switching off the monotony of the situation. I was about half way down Loch Ness when I was overtaken by the other Jersey boy in his florescent drysuit. He was managing the conditions far better than I was. His line was more central and he was catching far more waves than I was. Occasionally I would see him fall in which gave me some hope that he was tiring but in reality the gap between us was only increasing. Urquhart Castle on the western bank was a land mark that stuck in my mind, I had visited a couple of years earlier with the family and we had done one of the Nessie boat trips. Once I passed the castle I felt like it shouldn't be far to the end of the loch. I was slowly overtaking some of the two day paddlers which turned out to be a great way of breaking down the distance in front of me. The end of the loch was now in sight but I was unsure of the exact line until I spotted a large tourist cruise boat emerging from some trees. It was then I noticed the line I was on meant I would need to paddle diagonally across the wind and waves for about four kilometres to make the exit. The Loch Ness exit was one which we hadn't checked out the previous day and now I was paying the price. As I continued the slog I saw another paddle boarder moving passed me on my right hand side. He had chosen a much better line than me meaning he still had the wind on his back, there was no way I was going to catch him. Reaching the end of the loch felt like a relief, all that remained was a few kilometres of canal and the job was done.
At the final portage I swapped out of my heavy buoyancy aid and wet neoprene top choosing to go with a dry base layer and a waist belt buoyancy aid to make the final effort more comfortable. The last few kilometres was spent chasing down some of the two day paddlers. I was impressed how happy everyone seemed to be after such a slog. I was also in admiration of the prone paddlers who had chosen to complete the challenge without paddles, I thought to myself their hands must be freezing. Turning the final corner and seeing the finish line flags flapping away in the distance was a sight for sore eyes, and shoulders. I was aware of my time and noticed that if I put in a bit of a spurt I could get across the line in under 11 hours. In the grand scheme of things it made no difference to final placings but it was enough of an incentive for me to pull a bit harder in the final stretch. My official time was 10 hours 59 minutes and 50 seconds. The Great Glen and the focus of my year was over, it felt good.